Crew
Jesse P. Howard (Director). Jesse believes: "I am here to give love. After all is said and done, after the show is gone, clothespins are unclipped, the set is taken apart...the real lasting element of this experience is a 3 dimensional love." Jesse, himself, is one of the most 3-dimensional, human adults we've all had the pleasure of knowing. As one of his biggest fans put it: "that guy has more sides than a dodecagon!"
Mark Hoover (Musical Director, Keyboards). Mark is like tofu; his core is simple, but he soaks up the flavors of life around him. Some note: "He really helps my day start balanced." Mark describes Jesse as "the shooting star" of his life, a friend and coworker who encouraged Mark to expand the horizons of his dreams. Mark feels that more important than the show "are the many realizations and awakenings which all of us experience in the process of striving for the impossible."
Grace Cornell (Stage Manager, Lightboard Operator). "Big parts, small parts, good guys, bad guys, plants, animals...she's played them all". This is the first show Grace has been involved with that she hasn't performed in; as a result her technical theatre skills have become mammoth-sized, and she has had her own artistic input. Her horizons ever expanding, Grace is co-writing/directing/performing a Fringe show called "Plan B" with Alexis Lainoff, which comes out in September.
Kirsten Geier (Choreographer). Kirsten was downright terrified when she came to her first summerstage rehearsal of Romeo & Juliet because she had never worked with kids before. Upon her arrival, we assured her that we didn't bite, and ever since, she has loved "that it is possible to create art, good art, in an environment of support and love." Summerstagers note that "she adds finesse and detail to every action and character in the show."
Quinn Thomsen (Captain of The Inquisition). Perhaps you've unwittingly heard Quinn while attending one of your child's shows. Known to many audiences as "That Big Laughing Guy," Quinn's notorious chuckle embodies his spirit: booming joy. Described as "adding vitality to any rehearsal process, even if he's trapped inside a man-eating plant," Quinn himself appreciates how capable summerstagers are of communicating their gratitude to one another.
Zac Dillon (Documentarian). In addition to being "an intelligent, insightful, energetic, inspiring, warm, kind human being," Zac "is the nicest goofball ever!" As soon as Zac stuck his foot in the summerstage door last year, he was already cast in a leading role. Luckily, Zac "learns by doing", a strategy that he is just as passionate about this year, behind the camera. "He is as comfortable being on the sidelines as he is being in the middle."
Todd Howard (Documentarian, Bass). Todd, Jesse's older brother, had his first summerstage experience playing bass for Romeo & Juliet (26 songs to learn by ear in three days!). He signed on again this year to make the documentary because of his love for his brother, Jesse, and because of his belief that "teenagers can do 1000% more and are 1000% more reliable and creative than most of society believes". Zac, his partner in crime, says: "add creativity to skill, and you get Todd."
Saul Bierman (Percussion). Brought on in the final week of summerstage, Saul was determined to learn the drum sequence for every song in the show. This brave soul has been performing since he was a wee one, and does all he can to contribute positively to the summerstage environment.
Producer
Carol Dillon
Master Carpenter
Aaron Murray
Master Electrician
Richard Schaefer
Band
Keyboards
Mark Hoover
Bass
Todd Howard
Percussion
Saul Bierman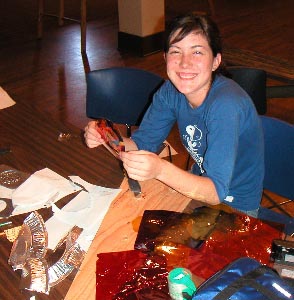 Student Crews
(bios on Cast page)
Lighting
Sarah Goldblatt
Brittany Stallings
Conor Byrne
Props
Laurel Stewart
Alexis Lainoff
Jill Muscatel
Costumes
Kelly McDonald
Ellen Miller
Leah Bromet
Hair / Make-up
Grace Cornell
Meagan Mays
Dance Captains
Jill Muscatel
Brittany Stallings
Fight Captains
Winslow Johnson
Alice Moore
Horse Head Design & Construction
Paige Pauli
Robin Stewart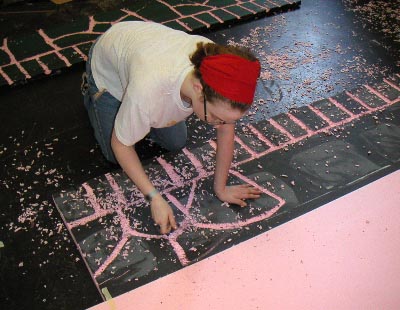 Additional Crews
Additional Costumes
SAAS Theatre Dept.
Special Prop and Costume Construction
Quinn Thomsen
Lila Thomsen
Ardella Douglas
DillonWorks
Set Design
Aaron Murray
Jesse P. Howard
Set-Builders
Alice Moore
Winslow Johnson
Molly Arkin
Sarah Goldblatt
Leah Bromet
Zac Dillon
Jesse P. Howard
Laura Shumate
Quinn Thomsen
Painting Coordinator
Kirsten Geier
Painters
Ashley Hoover Molly Arkin
Keenan Sullivan
Sarah Goldblatt
Laurel Stewart
Leah Bromet
Ellen Miller
Robin Stewart
Sam Russell
Paige Pauli
Kelly McDonald
Grace Cornell
Laura Shumate
Aaron Murray
Video and DVD Production
Malcom Cornell
Camera Operators
Malcom Cornell
Joyce Cornell
Website
Robin Stewart
Poster
Paige Pauli
Cast and Crew Bios
Alexis Lainoff